The Five Piece French Wardrobe - Fall 2015 Edition
OK, it's time to turn to some basics today! I will be continuing with the "complete wardrobe" posts soon, but I wanted to balance out what can be an overwhelming number of clothes that won't fit in many people's closets with a post on how integrating simple, classic basics and seasonal trends can bring new life to your wardrobe.
Some time ago I came across the "Basic 5 Piece French Wardrobe" theory on Pinterest, and I was immediately intrigued. (I wish I could give credit to the correct person! I'll update if/when I find it.) After that, blogs like Who, What Where and Into Mind (THE authority on capsule dressing, IMHO) integrated the idea into their sites.
The principle is that you have a wardrobe of classic, neutral basics that you can wear (almost) year-round. Each season, or Fall/Winter and Spring/Summer, you buy five new items, allowing you to add some trends and build your wardrobe of quality items. Purchasing is done thoughtfully and not haphazardly, thus saving you money and keeping your wardrobe smallish. For super trendy pieces, opt for less-expensive clothes. If it's an item that has been hot for fall several times in the past five years, like the cape or plaid, consider more of an investment piece. Of course, if you need to replace a basic, you are "allowed" to, but consider purchasing quality, trend-proof items that last for at least several years.
NOTE: After you read this post, be sure to head over to the 2016 Fall edition!
The Basic Five Piece French Wardrobe
As you can see, these pieces can be worked into pretty much any wardrobe, and most cross over seasons. Those that don't, like the wool coat, should last you for many years. The items shown have a classic twist, but if this idea intrigues you, by all means, give them your personal twist!
Fall 2015 Trends
There are quite a few trends this season (as always) but I wanted to focus on five that are easy to wear and frequently in style for fall, then give you an idea of how to mix and match them with your basic pieces.
Chunky Knit Sweater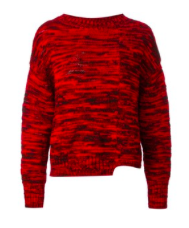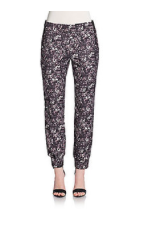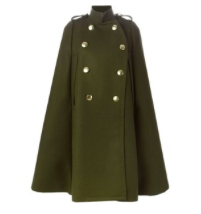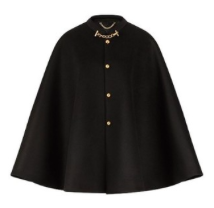 Breaking it down, we have two types of prints and three styles of garments. I love how two of the top looks for outerwear this fall are opposites in terms of structure: the cape is loose and flowy while the blazer is quite structured; however, they are both longer silhouettes that add quite a bit of coverage.
There are endless options for finding a look among these trends that are suited to your style and your life. For example, plaid shirts are incredibly common, but look at all the other beautiful uses of plaid above. Maybe a dress in your favorite style will integrate into your wardrobe better. If none of these strike your fancy, that is ok! You will still get an idea about how much flexibility this method of shopping and dressing can give you.
The Outfits
Just the basic pieces alone can be put together in so many ways! I will definitely be posting outfit combinations in the future just using those pieces, but I wanted to get you excited for these fall styles. Below I've pulled six basic pieces and 5 trend pieces, one from each category. There are twelve outfits below, but the options are by no means exhausted. I also didn't change up the shoes -- imagine these outfits with booties!
A Closer Look at Each Outfit
I hope you can see how just changing one piece can create a completely different look, so I only changed one item at a time for each outfit. The plaid shirt can also be an external layer, or worn under the sweater. The beauty of the basic accessories is that they will look fantastic with all of the outfits.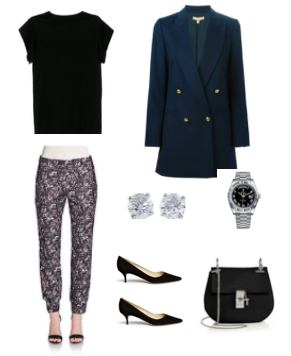 If you are a fan of the 37 item seasonal wardrobe, you'd be in under that number if you owned all the basics plus five new items! I also think knee boots are a must for fall and winter, even early spring. By adding boots and tights, you can wear the skirts and dress year-round, even in cold climates. Imagine how cozy you'd be with a cape topper to keep you warm!
Are you excited to do some fall shopping now? What's your favorite trend?